Are you ready for these Halloween trivia questions to test your knowledge on all things spooky. If you are looking for a Halloween trivia pdf you've come to the right place. This collection of printable Halloween trivia games includes questions about vampires, scary movies, candy, costumes and more.
There are 7 Halloween trivia quizzes here to choose from. Oh and it's Halloween trivia questions and answers are included too. We wouldn't want to keep you hanging!
(This post probably contains affiliate links. See the disclosure policy for more information. You can find the disclosure policy here.)
Halloween Trivia Questions
Trivia questions are great to have at Halloween parties or in the classroom because they can be used as ice breakers or just for fun.
For example, printable trivia questions are great to use when you're at home putting together Halloween party invitations or decorations. Use these spooky trivia questions to get ready for trick or treating with the family.
The best part is that there are so many different types of printable trivia games to choose from. You can find easy Halloween trivia, hard Halloween trivia, trivia with multiple choice answers and many more!
Check out the selection of Halloween trivia questions below.
Ultimate Halloween Trick or Treat Trivia Game
A super fun trick or treat game. Do you know more than your friends? Check out these Halloween trivia questions of all things trick or treat! This game is more suited to adults than children. Find trick or treat trivia here.
Halloween Trivia Quiz
Keep reading for some more fun Halloween trivia quiz ideas for some gross fun and scary fun.
Halloween Gross Trivia
The kids will love it! Gross trivia…need I say more.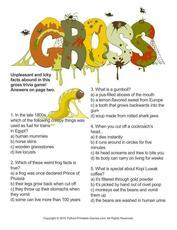 Halloween: Gross Trivia – $4.95Looking for an irresistible teen printable? How about a truly GROSS multi-choice trivia? We've delved into the history of horrid and come up with a dirty dozen disgusting facts! No stomach will be unmoved by this hilarious and eye-opening trivia game. Definitely aimed at the boys, but don't be shocked if the girls love it too…Full answer sheet provided.
Halloween Movie Trivia Questions and Answers
The next horror movie trivia questions and answers pdf are perfect to play at a Halloween party.
Horror Movie Villains Game
Here's a great Horror movie quiz. It's not as easy as it looks! This fun game of Halloween movie trivia questions and answers will keep everyone entertained.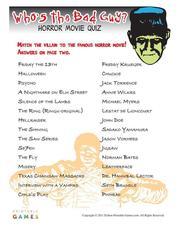 Halloween: Who's The Bad Guy? – $2.95Who's The Bad Guy? presents 15 of the all-time scariest horror movie villains with their movies (or series!). All you have to do is match the movie with the bad guy. Easy? We don't THINK so! You need a great knowledge of the world's scariest movies and a great memory, too…Full answer sheet provided.
Scary Movie Trivia
Test your knowledge of your favorite horror movies with this Horror Movie Trivia quiz.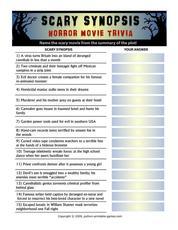 Halloween: Scary Synopsis Horror Movie Trivia – $2.95Scary Synopsis is a suitable game for lovers of scary movies. We've taken 15 movies and described each plot. From the description, players have to guess the movie title. An example:Q: Feral kids terrorize rural town from within fields of cereal cropsA: Children of the CornIt's a fairly straightforward challenge, not too easy and not too hard, that will appeal to all lovers of movies that make you want to cover your eyes every few minutes!Full answer key is provided.
More Halloween Questions and Answers Printable
Vampire Trivia
Vampire Trivia is the perfect Halloween trivia quiz. Fascinatingly, skin-tingling questions to raise the hair on the back of your neck.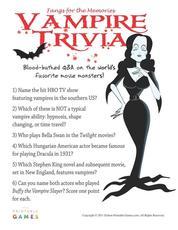 Halloween: Vampire Trivia – $4.95Vampire names and the best vampire movies inspired this great trivia game. We've assembled a tasty 15-question game, perfect for Halloween parties or anytime you and some friends get together for a 'bite' to eat. It's a fairly hard quiz, which will give trivia buffs plenty to get their teeth into!
Stephen King Trivia
Stephen King fans put your hand up. I must admit my favorite Stephen King book is 11/22/63 (not a horror one though). If you've seen the movies you may not need to have read the books for this.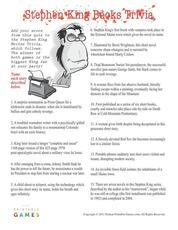 Halloween: Stephen King Trivia – $4.95Stephen King novels are among the world's best-selling horror works. Fans of his work will love our two-part quiz! Part one challenges you to identify Stephen King novels or short stories from a brief description of the story. Part two challenges fans to provide intimate details of plot or character. There are a total of 30 questions, with fully detailed answer sheets provided. A great trivia game!
Halloween Trivia Facts
Here's a super fun Halloween trivia pdf with Halloween trivia facts galore. This will question your knowledge on what is fact or fiction. Hint: Facts are often stranger than fiction for Halloween. You can find the Halloween trivia pdf right here.
Image credit: And All The Above
Looking for some more fun Halloween questions? Why not try our free Halloween Would You Rather questions and 2 free printables.
Ultimate Halloween Trivia
If you're looking for more awesome Halloween party games and fun printables in a large pack then read on.
Don't miss out on this full pack of Halloween trivia questions and answers printable games. See the list of the ultimate Halloween trivia games included below:
Chew On This Candy Names Game For Kids
3 Crossword Puzzles
Escape From The Garden Left-Right
Halloween Invitations
Left In The Dark Right Left Game
Halloween Match
Halloween Maze
Memory Match Game
Monster Mash-Up Charades
Name That Candy Bar Game
Halloween Newlywed Game Questions
Scary Synopsis Horror Movie Trivia
Halloween Scavenger Hunt For Kids
Halloween Synonyms For Kids
Teen Terrors Mad Libs
Halloween-Tongue-Twisters
Trick or Treat Trivia game
Twisted Horror Movie Titles
Word Search Puzzles
Vampire Trivia
Halloween – Who's the bad guy?
Halloween Trivia for Kids
If you are looking for some fun Halloween trivia questions for kids then check these out. You'll find family friendly trivia about witches, family feud games, candy match up, emoji pictionary and more.
Don't miss our FREE Halloween printable decorations. They are a great DIY activity with the kids and look fantastic hanging on your door or mantel. Or our FREE printable Halloween games to play during October.
Related post: Free Halloween tags
Halloween Games Printable (Free)
Halloween Scavenger Hunt Ideas – Free Printables
Please pin for later!
Halloween Trivia Questions and Answers