Check out our super fun Easter scavenger hunt clues for the best Easter scavenger hunt ever.
This is such a fun activity to do with your family this Easter Sunday. We've got 4 printable scavenger hunt sheets for both kids and adults in this article, so everyone can join in the fun. Simply download the sheet(s) of your choice, print them out, and get started!
There is one free printable Easter scavenger hunt and three very low cost Easter scavenger hunts games…that only cost a few dollars each. Well worth it and you can play them again every Easter.
(This post probably contains affiliate links. See the disclosure policy for more information. You can find the disclosure policy here.)
Easter Scavenger Hunt Clues
The scavenger hunt printables include a variety of different challenges, so you can choose the one that best suits your needs.
There is absolutely no need to reinvent the wheel and try to design one of these Easter scavenger hunt games yourself. Download one of these and they are ready to play!
So whether you're looking for something to keep the kids entertained or want to add a little bit of fun to your Easter celebration, the scavenger hunt printables are the perfect solution.
You will love this as your new family Easter tradition on Easter morning and it can easily replace a traditional Easter egg hunt!
Easter Scavenger Hunt Ideas
To use the scavenger hunt printables, simply download the sheet(s) of your choice, print them out, and get started! The sheets are designed to be printed on standard letter-sized paper or card stock, so they should fit easily into a printer. Just make sure you print them out in portrait mode.
Once you have your scavenger hunt sheet(s) printed out, it's time to get hunting! Have fun!
If you're looking for a more challenging scavenger hunt, be sure to check out our third scavenger hunt sheet. This printable includes code-breaker activities that is perfect for the whole family to enjoy. The older kids can help the younger kids with the Easter egg hunt clues.
So what are you waiting for? Download the scavenger hunt printables today and get started on some Easter fun!
Once you've printed out the sheet(s) of your choice, all you need to do is gather up some friends or family members and get started. The scavenger hunt can be played anywhere – inside or outside – so it's perfect for any Easter celebration. Just be sure to have a camera handy to catch all the fun.
Easter Scavenger Hunt Clues
All the links to find the scavenger hunt printables can be found at the end of this post.
Make sure your printer settings are set to color and also to 'portrait' orientation to get the full size printables. Some of the Easter scavenger hunt clues will need to be cut out so that you are ready to hide them around the house.
You could choose to sticky tape them to area where your clue says they are to be found. Or you could place them in colorful plastic eggs. Some people add jelly beans to these eggs as well.
Some people also like to leave small eggs along the way so that all players have a full Easter basket when they are finished. This is a great way to play when you have lots of kids and you don't want any disappointment at the last clue with only one winner!
Scavenger Hunt for Easter
The first Easter scavenger hunt printable is FREE. Simply print one sheet per player. Set a timer for 5 minutes, or longer if you prefer. The person with the most points after the timer goes off wins the Easter scavenger hunt. You may decide to have an Easter Egg as the prize.
You can download this FREE printable Easter scavenger hunt at the bottom of the article. (Scroll down to find the link).
Free Printable Easter Scavenger Hunt 1
Scavenger Hunt Clues Easter
This is my favorite Easter scavenger hunt as it can be played by all ages as well. It's not too tricky but the funny Easter egg hunt riddles will get everyone smiling.
It comes with 16 AWESOME clue cards that you cut out and hide around the house. Each fun clue leads to a specific location. You can choose whether you play all 16 clues or not. Either way it is so much fun!
Find the link to download this awesome Easter scavenger hunt game clues printable at the end of the article. The kids will love these awesome Easter scavenger hunt riddles.
Printable Easter Scavenger Hunt 2
Easter Egg Scavenger Hunt
The next Easter scavenger hunt is a fun game consisting of 10 puzzle printable Easter scavenger hunt clues. There are also 3 different options on the final card for the final place for the main treat location. This is all done for you…all you need to do is print it, cut out the clues and hide the goodies.
This one is great for slightly older children as there are fun code breakers and word scramble type clues to decode. You can hide each clue in a plastic Easter egg or they have conveniently added paper Easter eggs for you to use instead.
You can find the link to download this awesome Easter scavenger hunt game at the end of the article.
Printable Easter Scavenger Hunt 3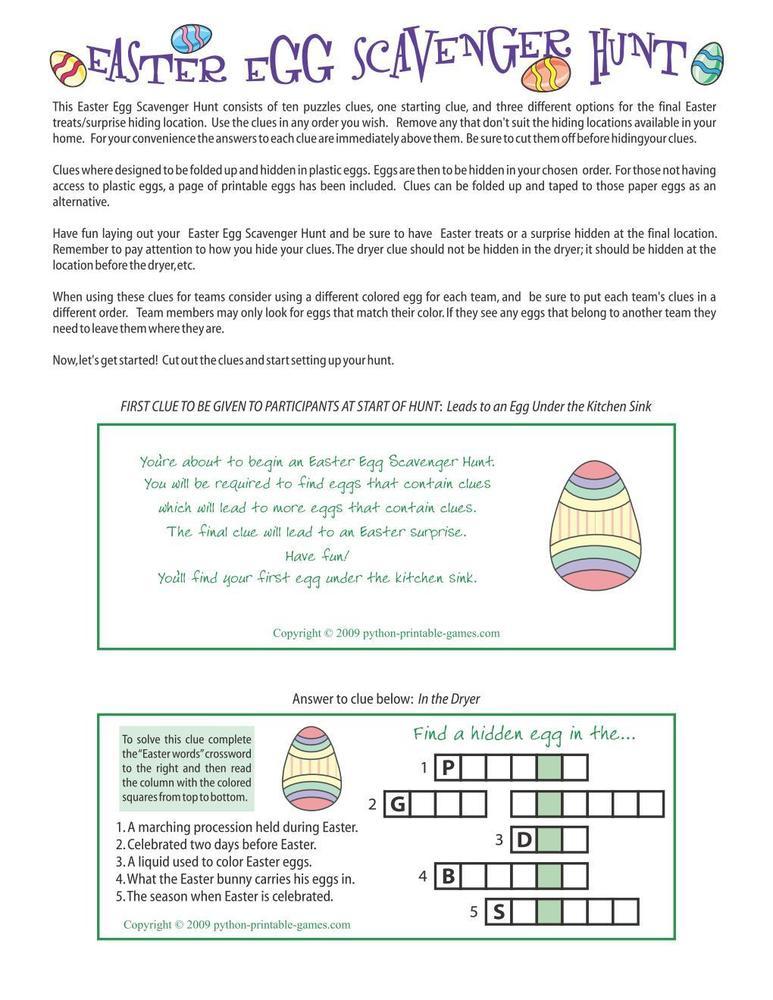 Bible Easter Scavenger Hunt
This last Easter scavenger hunt is based on the Bible. To play this Bible Easter scavenger hunt game you need to find the correct answers in the Bible related to the clues. The printable below also includes an answer sheet for your convenience.
Scroll to the bottom of the article to find the link to download this Bible Easter scavenger hunt printable.
Bible Easter Scavenger Hunt Printable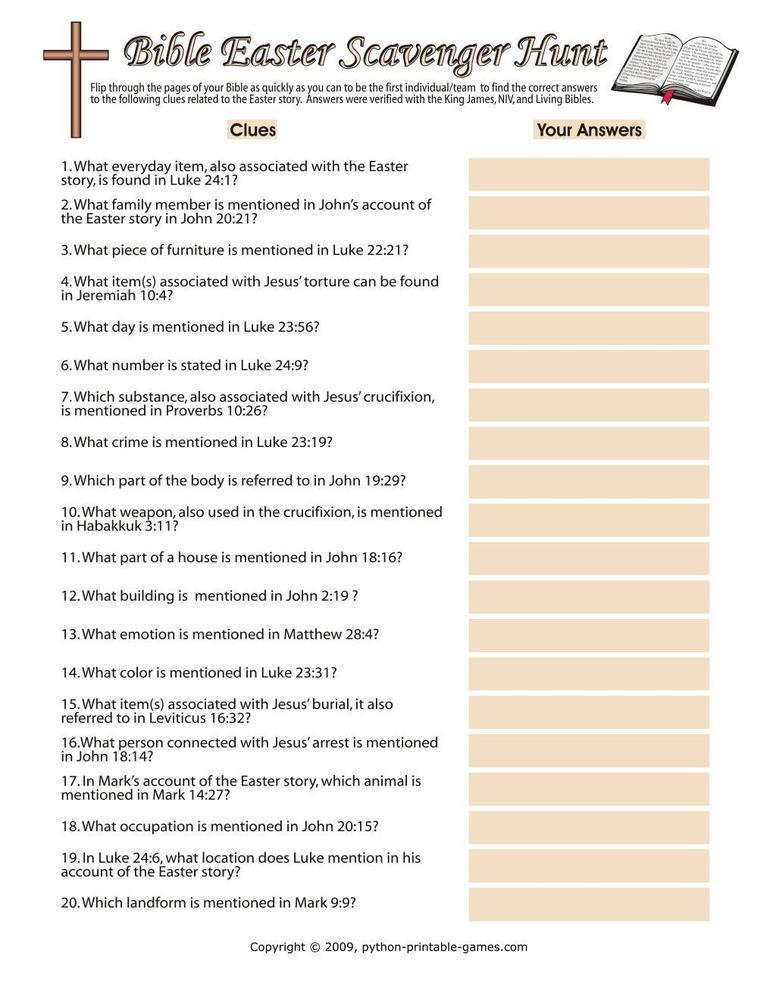 Easter scavenger hunts are the perfect way to have some family fun this holiday season with kids of all ages. We've gathered a few different printables for you to choose from, so there's something for everyone. Whether you want a traditional hunt with clues and puzzles, or something Biblical or just straight out fun clues, we've got you covered.
So get printing and start hunting! And don't forget to pin this post for later – you'll want to have these handy when Easter comes around!
Don't miss our other great Easter articles for family fun over the holidays.
Printable Easter Games and Activities
Easter Scavenger Hunt
Here are the links to download the best Easter Scavenger Hunt clues.
Free Printable Scavenger Hunt 1
Printable Easter Scavenger Hunt 2
Printable Easter Scavenger Hunt 3
Bible Easter Scavenger Hunt Printable
Thanks for reading this article. I hope the Easter Bunny brings you many eggs. Enjoy the fun Easter scavenger hunt ideas.
I hope you find all the hiding places and enjoy the grand prize at the end of the hunt. Make sure you have your Easter eggs ready. If you have enjoyed these fun ideas in this Easter post, please hippity hoppity over and share on social media!