If you are looking for some great Easter trivia questions and answers to play with your friends and family this Easter, look no further! We've put together a list of some of our favorite trivia about Easter that are sure to get everyone playing and having fun.
There are 6 Easter trivia printable quizzes in this article (plus extra questions in this article) – See screenshots of what they look like so that you can see the type of questions in each.
Whether you are after religious trivia questions or more general questions about Easter, we've got you covered. These are great to play anytime on holy week or from Good Friday to Easter Sunday or anytime during the Easter season.
Have fun and good luck with these Easter questions.
(This post probably contains affiliate links. See the disclosure policy for more information. You can find the disclosure policy here.)
Easter Trivia Questions and Answers
It's great to celebrate the Easter holiday long weekend with your friends and family, but sometimes it's hard to think of things to do, while you are waiting for the Easter food to be served.
Why not try something new this Easter and test your knowledge with some fun trivia questions?
We've put together a list of the best printables full of the best Easter trivia questions and answers that will keep you entertained for hours.
Scroll down and see the fun selection of Easter trivia questions and answers and games and get the Easter party started!
See all of the BEST Easter Trivia questions (and answers) right here in the one convenient place. There is something for EVERYONE!
General Trivia About Easter
Easter time is the perfect time of the year to test everyone's general knowledge of why and how this Christian holiday came about.
Here are some more quick Easter questions and answers to get you started!
Q. How big is the world's largest Easter egg?
A. 10.39m or 34ft 1.05 high. Made completely of chocolate. Yum!
Q. Where did the idea of the Easter Bunny come from?
A. It came from Germany in 1700s. German immigrants brought the tradition of the egg laying rabbit to the rest of the world.
Q. Who was the first person to discover Jesus' tomb was empty?
A. Mary Magdalene
Q. When was the Last Supper in relation to Easter?
A. The Last Supper was Maundy Thursday which is three days before Easter.
Q. What do Easter eggs symbolize?
A. Easter eggs symbolize The Resurrection and new life.
Q. What part of a chocolate bunny is typically eaten first?
A. The overwhelming majority of people eat the ears first and the feet last!
Q. How did Easter Island get its name?
A. Easter Island got its name after it was discovered by a Dutch explorer on Easter Sunday in 1722.
Q. Why does the date of Easter change every year?
A. Easter is related to the full moon. Easter falls every year on the first Sunday after Spring Equinox. Therefore there is no fixed date of Easter the same way that there is with Christmas.
Easter Trivia Questions
If playing trivia is not yet part of your Easter traditions, grab some of these Easter trivia sheets below.
Click on each trivia photo to find them and simply download them, print them and use them as many times as you like. I bring mine out every year as everyone has forgotten the answers when Easter rolls around again.
Many of these Easter trivia questions and answers multiple choice format – which is a favorite amongst players as you've got a good chance at guessing the answer even if you have no idea.
Scroll to the bottom of the page to see how to grab the trivia bundle with all of the trivia printables.
Easter Quiz
The first Easter trivia game is a fun game with lots of multiple-choice questions to test your general knowledge around Easter. See the questions below. (Remember the answer sheet is provided with all these trivia printables.
Easter Trivia Game
Click on Easter trivia game image below to access the trivia sheet. There are some interesting facts that you may or may not know in this quiz about Easter. There are also questions on the tradition of the Easter bunny.

Hint: A great way to improve your brain power is to fuel it with chocolate bunnies and chocolate eggs. Hot cross buns are also good for brain fuel. (It's a good excuse anyway!)
Easter Facts
The next two trivia games are for those who know their Bible and the history of Easter. This is a fun way to learn more about the religious origins of Easter. If you were after some non-religious trivia, simply scroll down to find some other questions and answers.
Easter Bible Trivia 1
There are some old testament questions and questions about the life of Jesus. Click on each image of the Easter pages below to access the trivia questions and answer sheets.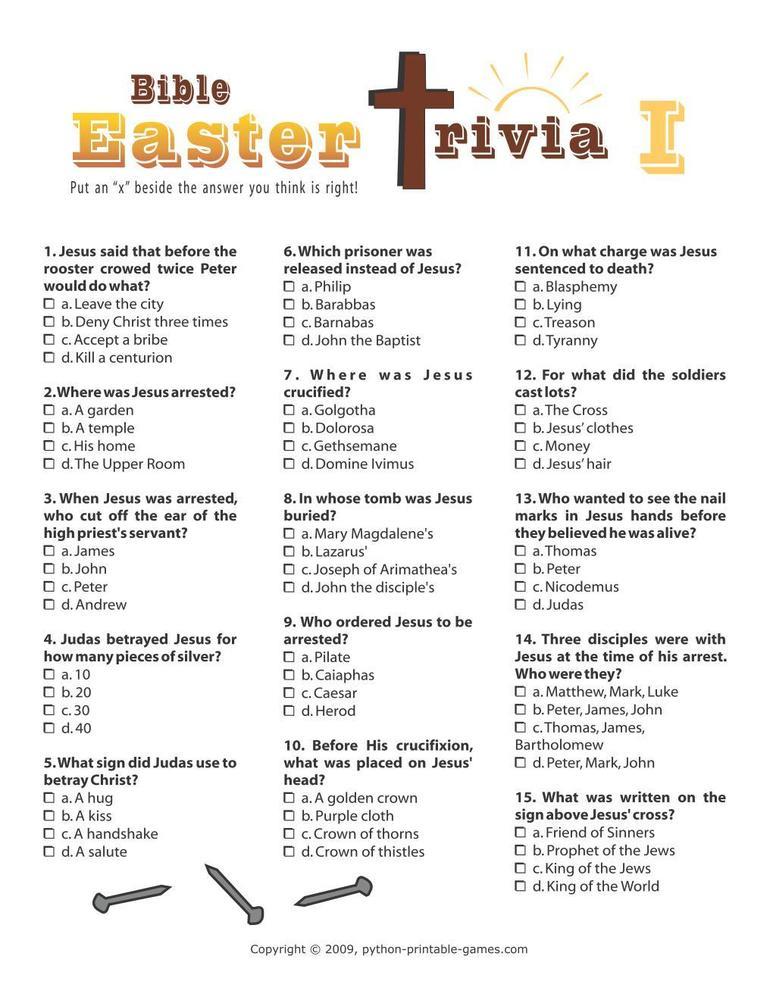 Next is set 2 of the Easter trivia questions. Be quizzed on lots of Easter trivia facts straight from the Bible about Easter and the resurrection of Jesus Christ.
Easter Bible Trivia 2
Another quiz to test your bible knowledge. It includes questions about Jesus' tomb and the Easter story. Click on the Easter trivia image below to access it.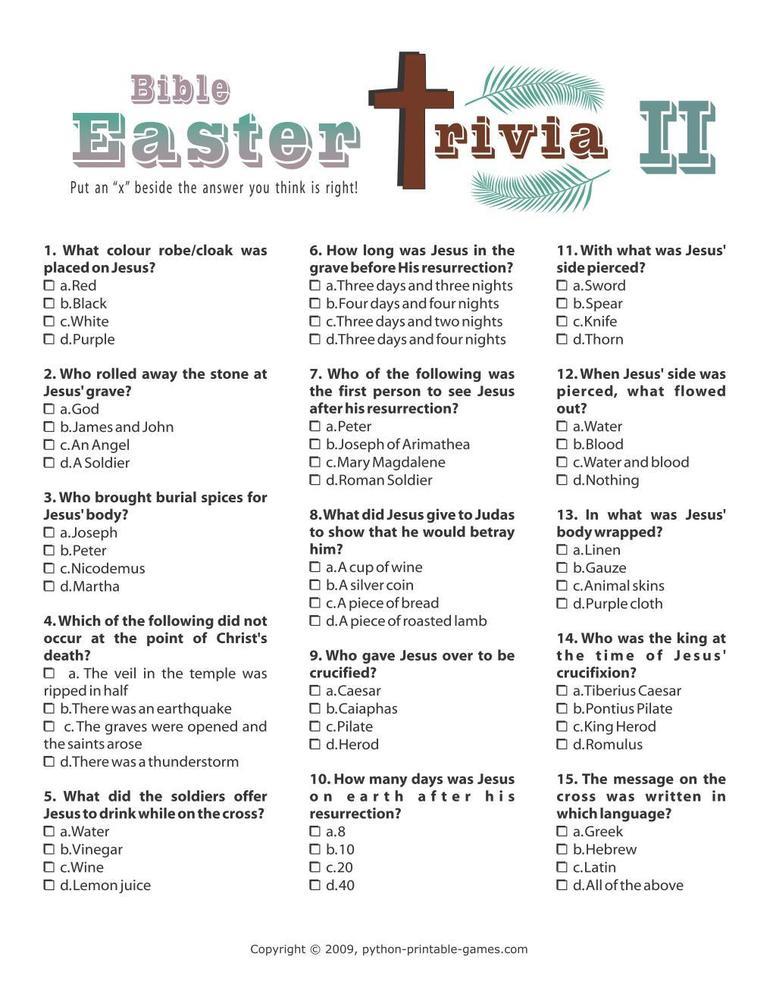 Famous Rabbits Trivia
This Easter trivia is all themed around rabbits. The kids can help you with this one. Click on the rabbits trivia game image below to access the trivia game and answers.
Trivia about Easter
This next quiz about Easter is about the characters in the Bible. Simply match the clues to the person. Don't worry the answer sheet is provided.
Easter Bible Characters Match
Simply click on the Easter bible characters match image below to access the trivia game and answer sheet.

Easter Fun Facts Trivia
If you buy the full set of Easter trivia printables you also get this fun Egg facts quiz included below as well as heaps of Easter games and 7 printable party games.
Easter Egg Facts Trivia Game
Click on the egg facts image below to access the full pack of Easter trivia games including the eggs fact quiz sheet with answers on page 2.
You can get the full pack of Easter trivia games in a bundle right here.
Didn't find quite what you are after. Don't worry – there are HEAPS more Easter trivia games available right here. There are so many great ones to choose from.
Easter Trivia
To recap the Easter Trivia featured in this post included:
Easter Trivia General Knowledge
Easter Bible Trivia 1
Easter Bible Trivia 2
Famous Rabbits Trivia Game
Easter Bible Characters Trivia Match
Eggs Fact Quiz
We hope you enjoyed our Easter trivia questions and answers for a great Easter quiz 2023. If you did, please share with your friends and family on social media. And be sure to check out our other holiday-themed content for more ideas on how to have fun this season.
Easter Egg Scavenger Hunt Clues
Free Printable Easter Decorations
Non-Chocolate Easter Gifts for Kids
Thanks for reading this article and we hope you've found the perfect Easter trivia questions and answers printable for your Easter gathering.